User Vision placed on the Government G-Cloud 12 Framework
1 October 2020 - Chris Rourke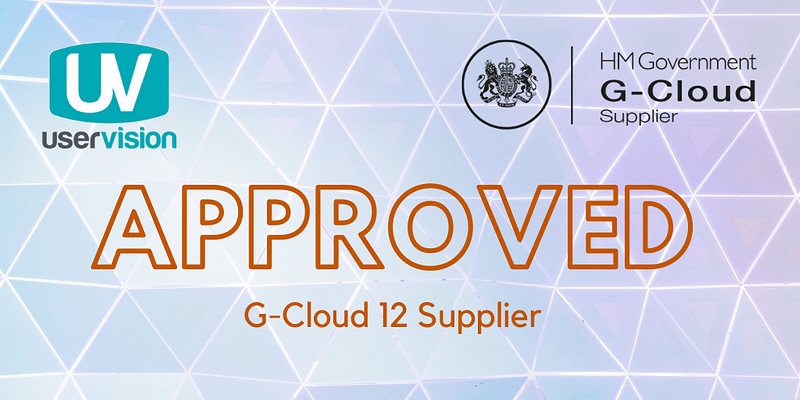 We are proud to announce that User Vision has been awarded a place on the latest version of the UK Government's Digital Marketplace Framework. This framework, G-Cloud 12, helps UK public sector organisations find and buy digital and technical services. The suppliers offer their services through a catalogue called the Digital Marketplace(this will open in a new window) which is managed by Crown Commercial Service (CCS), an executive agency of the Cabinet Office.
The G-Cloud framework is the perfect vehicle for buying and selling solutions and services to the UK government especially those from smaller suppliers. Indeed, the UK government clearly recognises the great value and innovation offered by small business, having committed to spending £1 in every £3 with small businesses.
With our long track record of work with government clients ranging from local councils to GOV.UK, it is only appropriate that our extensive UX and service design offering is available through G-Cloud 12.
The full listing of our 27 services offered through the Digital Marketplace is listed on the User Vision G-Cloud account page on the Digital Marketplace. As this requires a secure log in, we have summarised our UX, experience design and service design services below, listed alphabetically.
Accessibility Audits

- We evaluate your service against the Web Content Accessibility Guidelines, using automated and manual testing as well as assistive technologies providing actionable recommendations for greater digital inclusivity.

Accessibility Training

- Practical in-house training from management awareness through to accessibility testing and development all delivered face-to-face or online by our experienced accessibility team.

Agile Usability Testing

- Our usability testing conducted in short time frames to fit with iterative project cycles as part of agile development, allowing progress towards a robust MVP.

Card Sorting and Tree Testing

– Essential UX methods for developing an evidence-based Information Architecture (IA) for your site, software or app.

Customer Journey Mapping

– A great way to illustrate your customers' journeys across digital and non-digital touchpoints, revealing the opportunities to provide a better end to end customer experience.

Diary Studies

– Enabling users to record their experience with your brand, service or product over time provides compelling and personal insights into user behaviour, thoughts and needs in the moment, with a better design as a result.

Expert User Experience (UX) review

- A cost-effective audit of your product's UX based on interface and interaction design best practices and our team's experience from hundreds of projects.

Eye tracking

- Applied during usability testing this shows which parts of the interface capture attention with engaging visualisations and insights to the subconscious eye movements

Focus Groups

- An excellent way to understand customer needs, opinions and ideas by exploring concepts and interactive exercises and discussion.

Information Architecture Analysis & Design

– Creating the backbone of your site, software or app through card sorting, tree testing and other analysis methods to help users navigate to the content and services they want

Online Surveys

- A cost-effective way of collecting opinions and feedback from users.

Persona Creation

- Based on research and contextual analysis, we create inspiring representative personas which can be applied by your design team.

Prototypes & Wireframes

- Visual representations of your product to help share understanding, explore design concepts, or test with users to give early understanding of what works and what doesn't.

Service Design

- Improving the quality of customer experience over time and multiple touchpoints through research with customers and other stakeholders is essential for providing simpler processes, innovation and better operational efficiency.

Top Task Management

– Our proven quantitative research methodology to discover your users' Top Tasks to help ensure content and navigation is aligned to your customer needs.

True Intent Research Studies

- A fully managed service blending a configurable on-site survey with consultant-led analysis to give clear insights into why users are coming to your site and their barriers to use.

Usability Testing

- We perform all aspects of testing, from recruiting representative participants, to moderating tests, analysing data, developing recommendations and presenting results.

Usability Testing involving People with Disabilities

– Moderated usability test sessions involving people with a range of disabilities to test your product or service and understand the user experience (UX) and issues.

User Experience

- Applying the GDS principles of user needs analysis, user requirements, journey mapping, prototyping and user testing, we provide research and design expertise to create the best possible user experience

User Experience Certification

– As Registered Training Providers of the international User Experience Qualification Board (UXQB), we provide training and exam-based qualifications in the Certified Professional in Usability and User Experience (CPUX) courses.

User Experience Training and Mentoring

- Training and mentoring in usability, UX and experience design including UX Strategy, interaction design, rapid prototyping, digital accessibility, user research, information architecture, and usability testing.

User Experience (UX) Benchmarking

- Comparing the User Experience of your organisation against your peers, or against your own site over time so you can measure the effects of UX changes.

User Research

– We apply proven quantitative and qualitative UX research methods to discover who your users are, their tasks, behaviour and needs.

User Research and Testing Facility Hire

- Our two focus group and one usability testing studios in central Edinburgh provide state-of-the-art, flexible, comfortable spaces with the latest technology.

UX Strategy and Maturity

- Working with your team to develop your user experience and service design strategy setting clear goals and identifying the resources required to meet your customer experience vision.

UX Strategy Workshops

- Practical workshops that deliver real insights, ideas and innovative proposals for your service delivery.

UX/UI Design

- Designing highly usable and engaging interfaces and interactions based on robust user research and user needs analysis.
With digital services being ever more important in this cilmate, we'd love to hear from public sector organisations who are embracing the Gov.uk Service Standard(this will open in a new window) and want to ensure end users are placed at the heart of everything they do. Just drop us an email or schedule a brief chat with our team(this will open in a new window).
You might also be interested in...
Global Accessibility Awareness Day 2022
19 May 2022
Today is Global Accessibility Awareness Day, held every year to get everyone talking, thinking and learning about digital access and inclusion. With more than one billion people with disabilities/impairments worldwide, it's a day that deserves to be celebrated.
Read the article

: Global Accessibility Awareness Day 2022