Using service design to boost sales and increase profit margins
20 February 2017 - Hannah Munro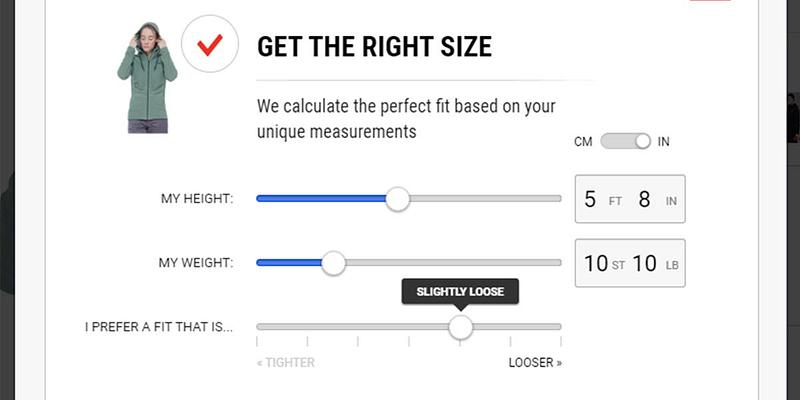 This article reviews a particularly nice example of how service design was used to fix a behind the scenes problem (in this case too many returns for online retailers), which in turn improved the overall customer experience and boosted sales. What I'm referring to is how to help customers to choose the right size when ordering clothes.
Background
Returns are a vital part of the online shopping experience, especially for fashion retailers. If we're going to buy something without seeing it or trying it on first, we need to know that we can change our minds. Many retailers, such as Warehouse shown below, have implemented 'free and easy' online returns policies to meet consumer expectations, encouraging us to try things at home and decide later.
But do retailers really want us to return things? Of course they don't. With the rise in returns comes a rise in costs. Retailers have to process and transport these returns. Not to mention the environmental impact of sending goods back and forth across the country. In an effort to make online shopping easier for customers, how much have these 'free and easy' returns policies increased the hassle behind the scenes and eaten into profits?
One way to combat excessive returns is to help customers to choose the right size the first time and in a world of personalisation and high expectations, generic size charts just don't cut it anymore.
The team behind Fit Analytics(this will open in a new window) have clearly spotted the opportunity in this area and developed a great tool to tackle this issue. They're not the only ones, Fit Predictor(this will open in a new window) has done something similar. Having tried both, Fit Analytics seems far superior and I have focused on their tool in this article.
Proven results
According to their site, their fit calculator not only reduces the rate of returns but even makes people more likely to convert. An A/B test with North Face(this will open in a new window)showed an impressive 2.4% increase in sales in the group who had the option of using the Size Advisor widget, as opposed to a traditional size chart.
How it works
It happened to be on the North Face site that I first saw the 'Fit Finder' and I was pretty impressed. It asks for enough information to make me feel it's accurate, without taking a long time. It not only asked for my measurements, size in other brands and age (we distribute weight differently as we age, apparently) but also my fit preference, which I could enter on a sliding scale from tight to loose.
The first time I went through the 'Fit Finder' I looked at a zipped jumper and selected that I preferred a slightly loose fit. Got to be layering up in sunny Scotland. It seemed to work well and I quite enjoyed the experience, it felt personalised and the visual design is clean and appealing.
Now, I could be reading into this too much, but I feel it also tried to flatter me by making my weight seem low in comparison to my height on the sliding scales. I'm not sure how I feel about this, but it's an interesting aspect of the interaction. It's almost like a slimming mirror in a fitting room.
When I went on to look at some trousers, I was offered the opportunity to go back into the 'Fit Finder' and adjust my answers, as well as answering some additional ones about what size I wear in other brands. In fact, not only what size I wear in other brands but also what style of trousers. And not only what style of trousers generally, but the particular style of jeans sold by the brand I'd selected.
This thing feels precise and knowledgeable. I love how it confirms details about the sizing, is it a UK size or a US size, for example. I could go on but suffice to say I'm impressed by its thoroughness. Not only that, it made me trust it. When it tells me 76% of shoppers with my fit preference and body shape didn't return an L for size, I feel confident in buying only that size rather than my usual habit of buying two sizes and returning one. This thing has done its job.
Downsides?
My only criticism at this stage, and it is minor, would be that although my body shape will not change while browsing, my fit preference from item to item might. While on the North Face site, my preferences and sizing information are saved so that it can recommend a size to me on each product page. Nice touch. If I do have a different fit preference from item to item, however, I'd have to remember that and take the initiative to go in and change it. A reminder of what fit preference their current recommendation was based on would be an added bonus.
What we can learn
So, what monster is lurking behind the scenes in your organisation and eating into your profits? What might be your 'Fit Finder'? It's easy to focus on what the customer sees and of course, that's important, but all parts of your operation ultimately impact the customer experience in some way. Sometimes taking stakeholders and employees as the users and evaluating how well, or otherwise, your process is working can be just as valuable as focusing on the public facing side of things.
We'd love to hear from you to talk about service design and how we could help you to streamline your process. Check out some of our case studies or get in touch with us directly to find out more.
@HannahMunro(this will open in a new window) @UserVision(this will open in a new window)
You might also be interested in...