New UK Government accessibility rules
22 September 2020 - Keith Allan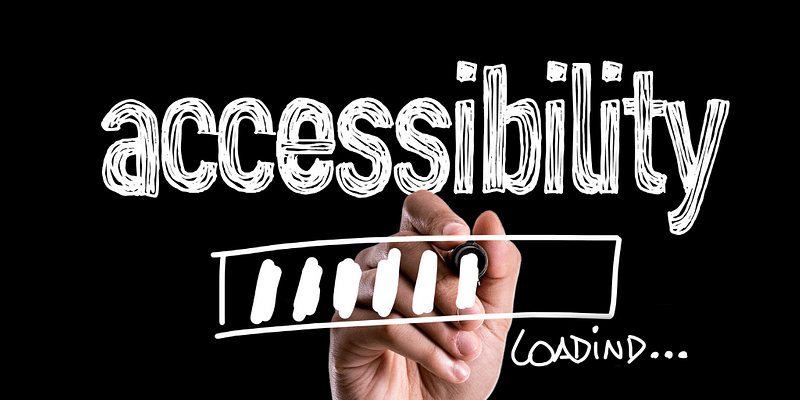 From the 23rd September 2020, all public sector websites must comply with important UK Government accessibility regulations aimed at improving accessibility and providing greater transparency about the level of accessibility provided by the site.
Our team have been passionate advocates of creating inclusively designed services & products for over 20 years, and have been working with many clients getting them ready for these guildelines coming into effect. Here's what you need to know about the accessibility regulations which are now coming into force.
It all stems from UK Government regulations that came into force on 23rd September 2018: The Public Sector Bodies (Websites and Mobile Applications) (No. 2) Accessibility Regulations 2018. These regulations required all public sector organisations to make their website or mobile app more accessible by implementing 'reasonable adjustments' for disabled people. The term 'reasonable adjustments' is a common artefact of UK law, one that has often been viewed as being too vague for clear interpretation or actual enforcement. Fortunately, in this case they have provided a much clearer idea of what the goals are by referring to established accessibility guidelines.
Clear goals and a logical progression of enforcement
Those drafting the regulations recognised that it helps to have a clear idea of what counts as good enough in the eyes of the law. Over two decades the Web Content Accessibility Guidelines (WCAG) have been the de-facto technical standard of what to aim for in terms of digital accessibility.
These guidelines, created and curated by the World Wide Web Consortium (W3C), have evolved with the technology and are now in version 2.1 (with version 2.2. under development(this will open in a new window)). The WCAG guidelines have always recognised different levels of compliance, stated as level A, AA and AAA.
The 2018 regulations also recognised that it is usually harder to retro-fit an existing website than one that is still being created. For this reason they set different dates for the regulations to come into force. Those websites that were in the works but not live when the legislation was launched were given until 23 September last year to comply, while existing public sector websites, published before 23 September 2018 need to comply with the new regulations by Wednesday, 23 September 2020. There are other specifics depending on whether you have introduced new subdomains during the past year, as explained in the regulation details which are available on the Gov.uk website.(this will open in a new window)
What about mobile apps? After all they are mentioned in the title of the Regulations. They are a slightly different beast, but the accessibility requirements apply to these as well for new, existing or outsourced apps, but the deadline for meeting them is 23 June 2021.
Making a statement about inclusive design
To comply with these regulations, all public sector websites, apps and documents (yes – those PDFs for instance) hosted on websites must aim to meet the Web Content Accessibility Guidelines (WCAG) 2.1 to Level AA.
Importantly, the 2018 regulations require organisations to clearly show their work and achievements in terms of providing accessible online channels. The public sector organisations must also publish an accessibility statement (which needs to be updated annually) on their websites and in apps to inform visitors about the accessibility of their websites. This is important content that clearly states what has been achieved for accessibility and what is still to be done. Specifically, the accessibility statement should:
list any inaccessible parts of the website or app
show how people with access needs can get alternatives to content that's not accessible
provide details on who to contact to report accessibility issues
provide information on the enforcement procedure if people are not happy with the response
be published in a fully accessible form
follow a consistent format
This type of accessibility statement serves as an important declaration of achievement and intent on improving the accessibility of the site. No one should know that their site is inaccessible and just hope that nobody will notice these shortcomings.
The accessibility statement is where you outline the strengths and weaknesses of your site's accessibility, showing the results of accessibility audits and methods that have been used for testing. Most importantly it outlines areas where more work needs to be done, helping users to avoid problem areas until they are fixed or replaced. In our experience from discussing the regulations with organisations, the transparency of the accessibility statement has motivated many to proactively improve their site accessibility.
The spirit of continuous improvement
The public sector is required, by law, to meet these accessibility requirements. The UK Government is required to monitor if public sector websites are meeting these regulations by checking accessibility statements and the accessibility of a sample of sites. This enforcement regime should help to continuously raise the game for accessibility in the public sector, and hopefully inspire and provide examples for other private and commercial organisations.
Helping our clients achieve their accessibility goals
Over the past two years User Vision has helped many public sector organisations meet the requirements of these specific regulations by performing accessibility audits, usability testing with disabled participants and delivering accessibility training courses for managers, developers and designers. We have worked with Student Loans Company, NHS, Scottish Enterprise, Scottish Parliament, Care Inspectorate, Education Scotland, Visit Scotland, and many others to identify and resolve accessibility barriers and fine-tune their development processes to make good accessibility 'business as usual'.
We've encountered a wide range of accessibility issues when conducting accessibility audits. These issues are not exclusive to public sector websites, and the most common of these include:
Images with insufficient alternative text
Insufficient colour contrast of text and non-text elements (icons, button elements etc) .
Links not having discernible text to help users identify their purpose.
Form fields not programmatically associated to labels, causing unnecessary confusion especially for screen reader users.
Status and error messages not being clearly announced by screen readers.
Insufficient visible focus on interactive elements to signpost to the user where they are in the page context.
Elements which cannot be operated using the keyboard alone.
Sites that are incompatible with specific browsers and devices.
At User Vision we are here to help your public sector organisation meet these regulations. Take a look at our Accessibility article as part of our UX toolbox series for further information on the services we provide.
To find out more about User Vision's accessibility services and how we can help to embed an inclusive design strategy into your organisation, give us a call on 0131 225 0850 or contact us with your enquiry.
You might also be interested in...
Global Accessibility Awareness Day 2022
19 May 2022
Today is Global Accessibility Awareness Day, held every year to get everyone talking, thinking and learning about digital access and inclusion. With more than one billion people with disabilities/impairments worldwide, it's a day that deserves to be celebrated.
Read the article

: Global Accessibility Awareness Day 2022
What's new with WCAG 2.2?
19 July 2021
The next major iteration of the Web Content Accessibility Guidelines (WCAG) is on the way! The World Wide Web Consortium (W3C) is currently preparing to publish version WCAG 2.2. A Working Draft is available now which intends to better reflect the experience of people with disabilities. This article aims to help you understand the WCAG 2.2 Success Criteria and what these changes mean for your website or application.
Read the article

: What's new with WCAG 2.2?