Fascinating insights from the IIeXBehaviour Conference
26 November 2019 - Chris Rourke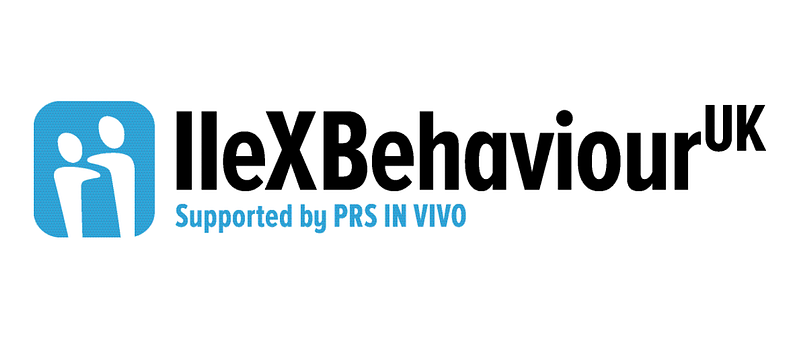 I recently attended the IIexBehaviour Conference(this will open in a new window) in London, the leading conference specifically about insights from behavioural science research. The conference brings together marketing and market research professionals to share the latest and best ways to apply behavioural science to understand, measure and predict behaviour of consumers and citizens. The fantastic line up of speakers discussed the power of emotive words and how combining that with certain visuals, can impact how we think, behave and buy.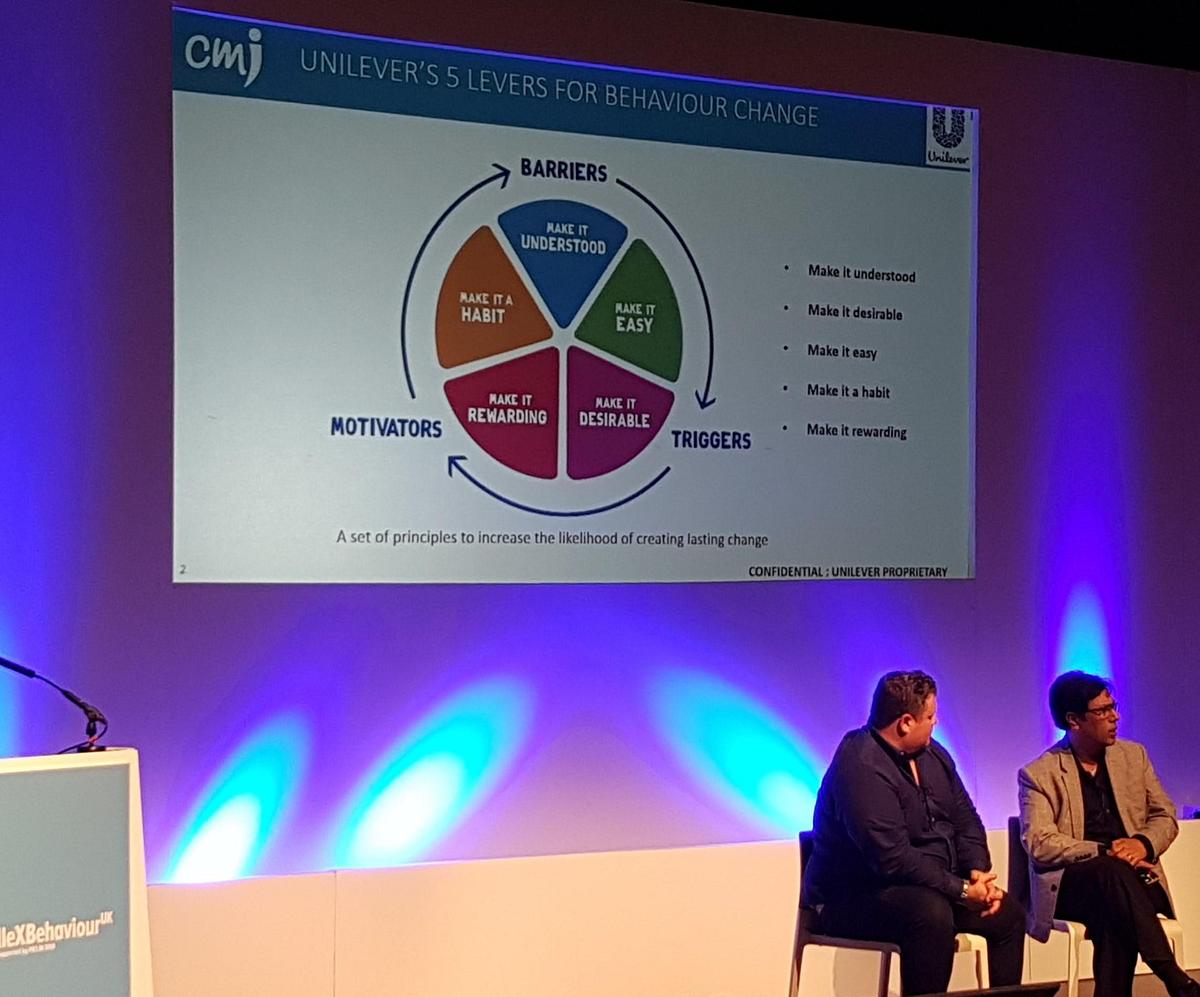 For someone like me, a closet behavioural economics geek ever since reading books like Freakonomics(this will open in a new window) and Nudge(this will open in a new window), this was a great chance to hear the research methods, experimental designs and results from leaders in the insights field. It was also fun just trying to decide who had the coolest sounding job title: Consumer Psychologists, Neuroanalysts, Behavioural Architects, Cultural Anthropologists and more!
A nudge in the right direction
Inevitably there was a lot of talk about nudging and the nudge theory(this will open in a new window) which has caught the interest of politicians on both sides of the Atlantic, most famously with David Cameron's Nudge Unit(this will open in a new window). The topic is fascinating. How can we influence the behaviour of individuals (and society more widely) through small changes to the environment, improving the 'choice architectures' on offer, or providing greater salience to the desired behaviour? The topic merges into the equally interesting user experience topic of persuasion, with social proof and other means of subtly influencing behaviour in the digital consumer realm, but often aimed at benefiting society by means of healthier diets or lifestyles.
For example, what would actually motivate people to stop smoking cigarettes? Graphic pictures of damaged lungs from years of puffing away, or a picture of a happy family but with one person greyed out and missing because their life has been cut short by the smoking habit? Questions like this are the focus of serious behavioural research worth millions of dollars, and are also good dinner party conversation fodder about what drives human behaviour.
Words matter
What are the main emotive words that will nudge people towards choosing heathier diets? Artificial intelligence has been applied to measure the semantic distance between the topics and words that inhabit the healthy eating industry, identifying those that are most likely to lead to increased interest and desire to purchase of healthy foods. The Good Food Institute studied this through implicit testing research, to discover the best descriptor words and visual imagery that makes food that is good actually sound good. So, what are the most effective words? Well, its complicated, but a quick hint: 'veggie' and 'vegan' are probably not the best.
Another engaging presentation by Hannah Moffatt of Schwa(this will open in a new window) on nudgy writing provided insights on why there has been more consumer action on plastic waste than carbon emissions. Yes, the 'Attenborough effect' has a lot to do with it, since he is the perfect messenger for the plastics topic, but it also has to do with using emotive, sensory words and images. If you Google 'plastic waste' you're likely to see images of ugly plastic bottles on a beach. Google 'carbon emissions' and you'll get some boring looking line graphs of ever increasing CO2 levels. Which one motivates you more?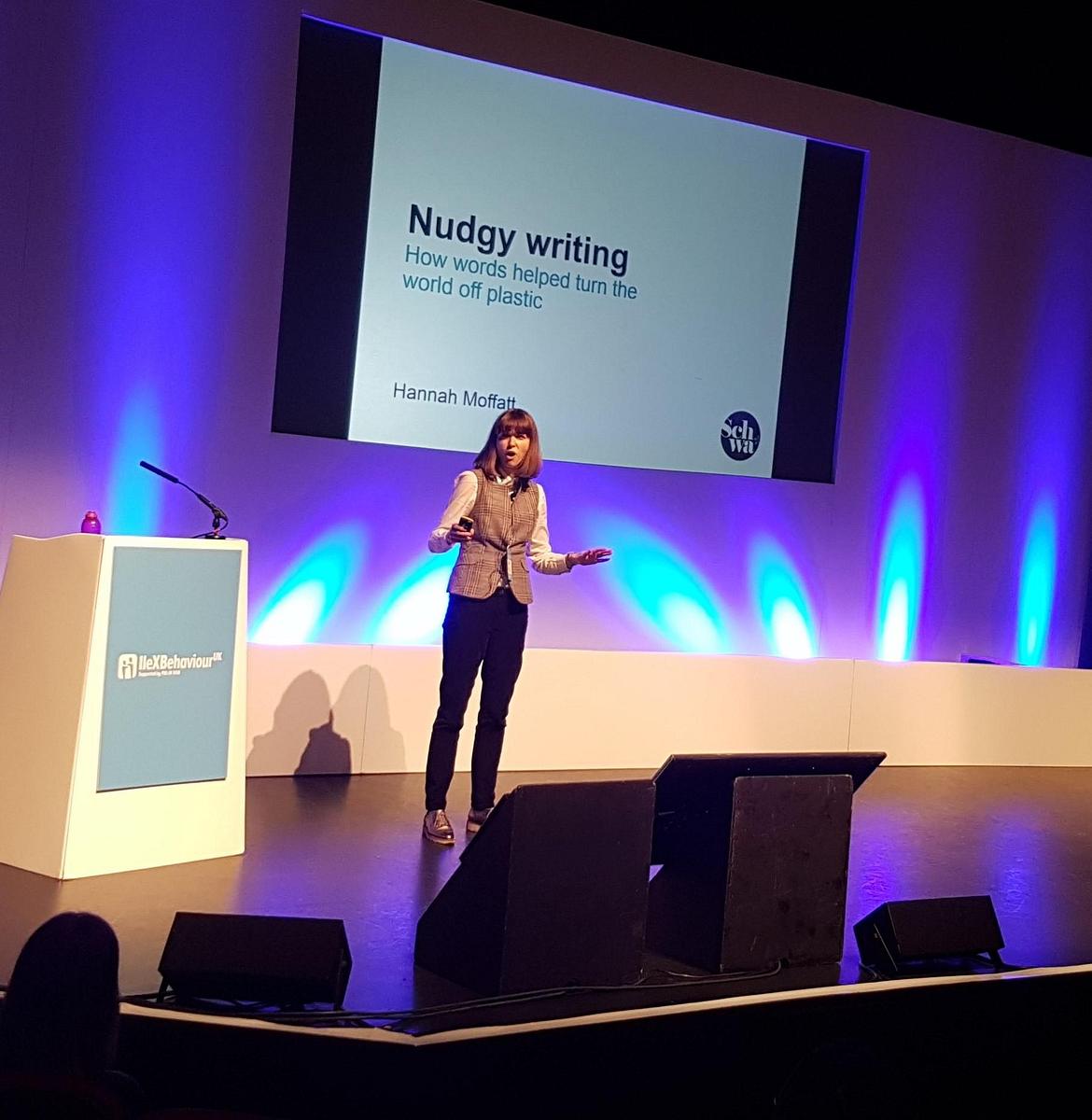 Its what you do, not what you say, that counts
It was important to be reminded of some truisms of research, such as it is always better to find out what people actually do rather than what they say they will do. As Kentucky Fried Chicken learned(this will open in a new window) at great expense, there can be a big difference between people saying they want healthier food during market research, and people actually buying the healthy food from your outlets. There were also many interesting examples of measuring behaviour through eye tracking and EEGs to track brain activity and cross-check the stated goals of users.
In addition to the many individual projects and case studies about applying behavioural insights to government and commercial marketing campaigns is the important reminder that we are far more malleable than we think. During the conference this was framed in terms of the betterment of society or the individual, but the potential for its misuse, edging into dark patterns and research ethics, is also clear.
Overall the IIexBehaviour conference was a great, thought provoking success and I look forward to it for next year. And in a very individual way, the conference has nudged me to indulge my inner behavioural economics geek – I've now put David Halpern's Inside the Nudge Unit(this will open in a new window) book on my Christmas wish list.
You might also be interested in...
We are family!
11 September 2020
User Vision has joined together with the best in class research, insight, innovation, econometrics and analytics organisations to create a powerful and unique offering - meet Destination 5.0!
Read the article

: We are family!
Everyday accessibility
21 May 2020
User Vision is celebrating Global Accessibility Awareness Day on 21st May. It's an area we've been passionate about and promoting for the past 20 years! Watch our video to learn more.
Read the article

: Everyday accessibility