UX Strategy – Design Leadership
This event has passed.
Overview
In this UX Strategy course, we will bring you through a framework to help you think about and plan your own UX strategy. We will look at questions such as; how and where do you begin? What do you need to establish in terms of processes, people, and policies to implement your strategy? And what can you do to bring others along with you on the journey in order to create a truly customer-centric culture?
Measurement is a key part of a successful strategy and we recommend as a natural progression in your learning, the next course after this one, is our one-day course dedicated to measuring the user experience.
Choose this course if you are interested in...
Learning how the user experience fits in with the

overall customer experience,

and how both fit with your organisation's wider digital strategies
How to get

management buy-in

and raise the profile of UX in your organisation
Understanding

where the gaps are

in your current UX processes and practices
Learning more about which

processes you need to implement

to ensure that robust and joined-up user centred design practices are being followed
Understanding the

different roles in UX

and how teams can work together
What you will learn
Fundamentals of

UX Strategy

How to create a

UX Vision

statement to guide your thinking
How to create and develop a

UX Roadmap

to guide you towards your goals
Strategies for overcoming

organisational barriers

, including resistance to change
The different

roles and responsibilities in UX

, and how to build your team and bring others along with you

UX measurement:

An introduction on how to monitor, measure and communicate the value of your strategy
What to expect on the day
Throughout the day we run several activates, based on case study material where you and your classmates will get the opportunity to apply aspects of the strategic framework to different situations. You will walk away with a framework and templates that you can use immediately in developing your own processes and strategy.
You will receive a print-out of all training materials and course activities. There is no exam in this course but all successful participants will receive a certificate of completion at the end of the day.
Cancellation policy
The following cancellation policy applies to all bookings made:
30 days or more before training – full refund or attend a future course date
15-29 days prior to training – 50% refund
7-14 days prior to training – 25% refund
6 days or less prior to training – no refund
You are most welcome to send a substitute for the originally booked delegate at any time by notifying us of their details. User Vision reserves the right to cancel all or parts of the course if an insufficient number of people register for the course.
Your trainers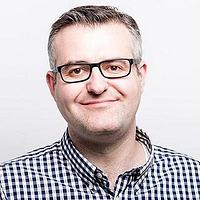 About Edward Chandler
With over 14 years' experience applying a user centred design ethos, Ed is passionate about creating great experiences. Before joining User Vision Ed worked at RNIB delivering accessibility across the board from Financial services, entertainment and travel.
At User Vision Ed has worked with a variety of clients in the financial, government and travel and tourism sector. One of his biggest successes has been to help an airline become accessible delivering a wide variety of accessibility consultancy from training through to management buy in and process change, whilst delivering a UX programme of regular testing with users.
Ed has an MSc in Human Factors from University of Nottingham, has sat on various international and industrial standards groups, delivered training to students on MSc courses and professionals in various organisations and has gained the CPUX-F qualification.
Ed heads up Client Services to help bring our clients more value from our services and focusing on embedding user centred design principles throughout organisations.
Specialisms and interests: accessibility and inclusion, user research methodologies, interaction design principles, user centred design and UX strategy
Course Access
You will receive an online link to access the course in the coming days.