Accessibility for Designers
Overview
This one day course will introduce accessibility design thinking and how to design usable and accessible experiences for everyone.
We will discuss removing barriers that inhibit access to digital services for people with disabilities, and we will cover how accessibility is achieved through content and design.
This is a practical course for designers, front-end developers and content authors. We will show you how to comply with WCAG 2.1 and what you need to consider when creating accessible digital experiences.
Choose this course if you are interested in…
Understanding the importance of and need for accessibility
Learning how disabled people use digital services
Learning more about accessibility standards and guidelines such as the W3C guidelines for web content (WCAG 2.1 AA)
Finding accessible solutions to interface design challenges
Creating inclusive design patterns
Communicating accessible design requirements to developers
Learning how to test your designs for accessibility
What to expect on the day
Our training includes lots of examples of good practice in inclusive design. You will walk away with concrete takeaways as how to apply this to your own designs. Throughout the day, you will get the opportunity to work individually and within teams to solve design problems by applying what you have learned.
Our course will cover:
Introduction to web accessibility with demonstrations of

assistive technology

Benefits of

digital style guidelines

and how to embed accessibility into them
How to convey accessibility considerations in your designs to developers
Accessibility guidelines on topics such as:
Colour and colour contrast
Page structure
Font style and size
Navigation and identification
Visible focus
Form controls
You will receive a print-out of all training materials and course activities. There is no exam in this course but all successful participants will receive a certificate of completion at the end of the day.
Cancellation policy
The following cancellation policy applies to all bookings made:
30 days or more before training – full refund or attend a future course date
15-29 days prior to training – 50% refund
7-14 days prior to training – 25% refund
6 days or less prior to training – no refund
You are most welcome to send a substitute for the originally booked delegate at any time by notifying us of their details. User Vision reserves the right to cancel all or parts of the course if an insufficient number of people register for the course.
Your trainers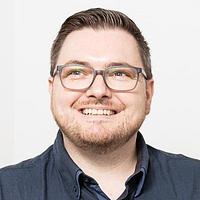 About Andrew Gribben
Andrew has always been fascinated by how people communicate with computers. He believes that when used responsibly, technology can empower users and change lives, so it was almost inevitable that he would build a career around implementing and promoting technical standards. In the past 20 years Andrew has been a Software Developer, Teacher and Coffee Roaster (everyone needs a hobby) but it wasn't until he began working in the field of digital accessibility that everything finally clicked. Andrew is technologist and tinkerer, he likes strategy wargames and building Lego with his kids, and works very hard to not be the Dad from The Lego Movie.
Course Access
You will receive an online link to access the course in the coming days.