UX Strat Europe 2015 – UX meets business strategy
2 July 2015 - Chris Rourke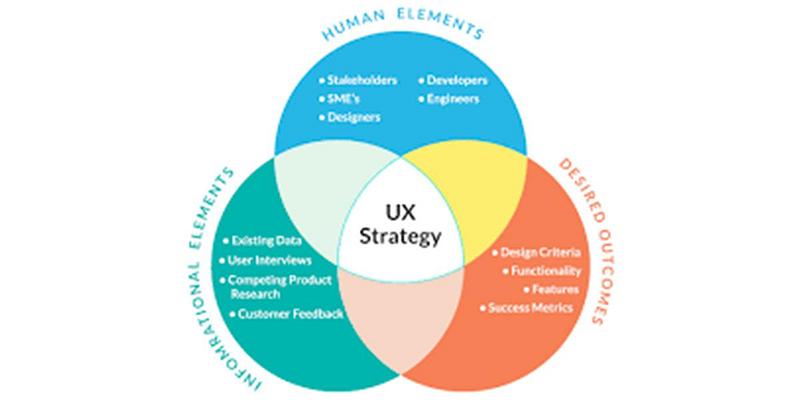 In June I attended the inspiring, informative and enjoyable UX Strategy conference(this will open in a new window) in Amsterdam.
This European conference was organised by Paul Bryan after several successful installments of the UX Strategy Conference and Masterclasses in the USA. Like the earlier ones, the goal of this conference was to explore the intersection of business strategy, customer experience, product design, and service design.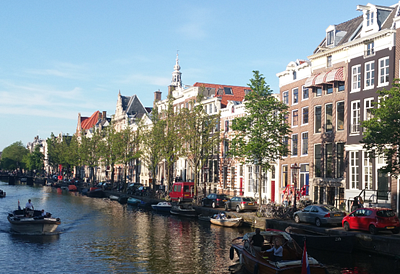 It was a refreshingly different UX conference. Although references were occasionally made to tactical methods such as usability testing or prototyping, the focus was firmly kept on the Strategic side of UX. Through various thought leadership pieces, company profiles and case studies we heard about the aspects such as:
Building the understanding and appreciation of UX within organisations so they can see the financial and customer experience benefits of improved customer experience
Identifying and assembling the internal and external resources to understand the benefits to be gained form improving the user experience and implementing changes to processes, interfaces, training and physical environments to achieve the goals
Developing a UX Strategy and deciding the metrics by which success will be evaluated
There were inspiring keynote presentations on both days. Theo Forbath launched the conference with 'The Revolution will be Digitized : Role of UX in Defining the Future of Products, Services, Experiences, Brands, and Business Strategy'(this will open in a new window) – a very enthusiastic and informed tour through the radical transformations in technology, and the opportunities this presents us in every aspect of our lives.
Theo described many new technologies that are disrupting industries and democratizing data such as 3D printing of prosthetic limbs, sensor chips embedded in our skin and the Word Lens app that immediately visually translates text via smartphone.
From giving us a seamless user experience at Disneyworld(this will open in a new window), to helping identify the Boston Marathon Bombers(this will open in a new window), ubiquitous data is transforming our world. Theo's talk provided a fascinating overview of the opportunities (and threats) that result.
Customer behaviors and expectations are increasing faster than companies can evolve their processes and update their technology stacks
– Theo Forbath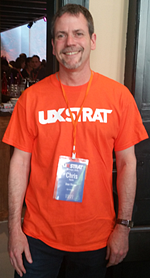 The data itself is a big challenge. Not just the sheer volume of it (there is a technology solution to that) but our ability and willingness to share the data about ourselves and which defines us and can announce our presence us as we go about our (real world) daily lives.
On the second day Gerry McGovern gave a stats-filled talk 'What's New About UX Strategy' (this will open in a new window)covering customer expectations, pervading consumer cynicism, and the role that better user experiences can play in countering this and enhancing trust. He also provided a solid case study of the benefit of focusing on the key tasks when revising site content and structure, with a clear demonstration of the benefits of his Customer Care words strategy applied at Cisco.
Other outstanding presentations included Annie Stewart, UX Strategist from the European Commission, who presented on 'Building A UX Strategy for Europe'(this will open in a new window). This was a massive project to refine the ocean of information hosted by the Commission into a smaller, better-structured pool that reflects the needs and priorities of the users. It was a tremendous effort, again applying the customer care words approach, and through evidence gained from an iterative approach, led to considerable improvements in findability and customer satisfaction.
Jonathan Lovatt-Young from Tribal Worldwide gave a powerful case study of service design applied to the car sales industry, and the potential for improving not only the customer experience around the time of car purchase but also throughout the period of ownership by taking advantage of the appropriate data from the customer and vehicle.
Andreas Hauser gave an insight to the organisational changes required at SAP that were needed to complement the interface and interaction changes to provide a better user experience to its customers.
Daniel Neuberger gave an inspiring overview of UX strategies he has applied when working with challenger brands taking on the market leaders. A key takeaway is that even with a good strategy and organisational structure, having the right company culture is essential to increase the chance of success in such large digital transformation projects. These and other presentations from UX Strategy were valuable in their own way and the slides have been uploaded on the UX Strategy Slideshare channel(this will open in a new window).
The recognition and adoption of UX continues to evolve, and many of those responsible for UX move from the technical delivery teams and closer to the business strategy. At User Vision we are performing more projects on user experience strategy and maturity with our clients. The ideas and examples from UX Strat Europe are very relevant and applicable to our projects and we are already looking forward to next year's edition of the conference.
You might also be interested in...