Let the fund raising begin!
24 May 2016 - Chris Rourke
Each year everyone at User Vision nominates a different charity to raise funds for, and then we spend the year raising as much money as we can for them with lots of different activities. For instance last year we cycled from John O'Groats to Edinburgh (on a static bike in our office!) and raised hundreds of pounds for Marie Curie Cancer Care.
This year our chosen charity is Tearfund(this will open in a new window), a fantastic organisation (UK Charity Registration No. 265464), that provides disaster relief and tackles poverty internationally.
We all have homes to return to at night, are not affected by natural disasters and can access clean drinking water. Millions around the world do not. Tearfund launched in 1968 and in the last 10 years has helped:
More than 17 million people through community development projects
More than 7.6 million people to recover from and prepare for disasters.
We look forward to raising as much as we can to help with their beneficial causes.
User Vision gets active for Tearfund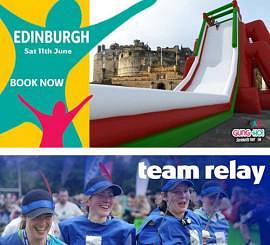 User Vision are breaking a sweat for two fund-raising events for TearFund.
We would really appreciate your support by donating to out nominated charity.
Follow us on Twitter @UserVision(this will open in a new window) to see our progress at the events we're running in and how we're progressing with our target.
You might also be interested in...
Jessica makes the BIMA 100!
21 May 2018
It was a beautiful day in London on 9 May, and I was lucky enough to be able to enjoy a little sunshine in the afternoon before putting on my cocktail dress for the BIMA 100 and Digital Hall of Fame awards that evening!
Read the article

: Jessica makes the BIMA 100!
Sleep Out Success
14 December 2017
The User Vision team joined the 8,000 strong crowd who experienced what it is like to sleep out in the park on a cold (-6°!) winters night. The aim? To raise as much money as possible in order to eradicate homelessness in Scotland.
Read the article

: Sleep Out Success